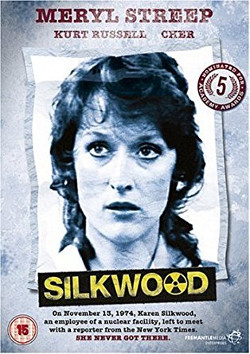 Silkwood (1983)
Director: Mike Nichols
Actors: Meryl Streep, Kurt Russell, Cher
Runtime: 131 min
Karen Silkwood was an ordinary girl – had a working-class background, with a couple of children and a failed marriage behind her, without prospects for significant advancement in life. But, in history she will be remembered as a hero.
Karen Silkwood worked at the plutonium factory where she advocated the fight for workers' rights. Within the trade union, she dealt with occupational safety issues and discovered numerous irregularities in the production of plutonium rods, including poor workmanship and exposure of workers to radiation. The company tried to cover it up, but Karen collected a large amount of evidence and documents that backed her claims. To the surprise of the factory management, but also some of her colleagues who disapproved her activism and stirring-up the factory status quo, Karen turned out to be a worthy opponent ― one that was ready to go on the line against a large corporation. In return, she was pressured daily, intentionally poisoned with radiation and eventually killed.
Karen Silkwood's death, in November 1974, received a lot of attention from the American public. Several books were written about her case, songs were dedicated to her and the movie "Silkwood" was made. The choices she makes are those choices we would like to believe we'd make if we were in her shoes. This is why for us Karen Silkwood is a hero. The movie is based on actual events.
You can download this film or watch it online.