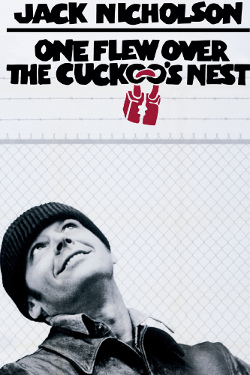 One Flew Over the Cuckoo's Nest (1975)
Director: Milos Forman
Actors: Jack Nicholson, Louise Fletcher, Michael Berryman
Runtime: 133 min
Murphy, a resourceful convict, pleads insanity in order to avoid heavy physical work and spend the rest of his sentence in a "friendly environment." However, when he is committed to the a mental institution he finds himself in a situation in which sadistic medical personnel abuses and humiliates patients, systematically destroying their self-confidence and self-esteem. When Murphy opposes the authority of the head nurse and other staff, an already charged atmosphere brings tensions to a boiling point, eventually resolving Murphy's resistance by electroshocks and lobotomy.
This asylum is an exceptional metaphor of contemporary society. It raises some very serious questions, such as the normalization of the disbalance of power, the political (mis)use of normality and mental illness, the role of repressive mental institutions in maintaining stability of the system, as well as question of obedience to authority and brutal methods that authority uses to preserves its hegemony.
One Flew Over the Cuckoo's Nest quickly gained status of a cult movie and became a must-see for all rebellious ones who felt resistance and the thirst for change, as well as the need to fundamentally re-examine the ideological basis of the world we live in. The movie ranked in the top fifty of the American Film Institute's list and is generally regarded as one of the best films ever made.
You can download this film or watch it online.